TODAY'S HEADLINE

(PDF) '2022 Metaverse Fashion Trends' Report
How Philips is Making Hospitals Far Less Intimidating for Kids
Top 25 Countries to Retire In
Popup Grabs $3.5M for No-Code Way to Personalize Online Storefronts
(PDF) Mckinsey - Global Flows : The Ties That Bind in an Interconnected World
This Shoe Styler Concept Helps You Put Your Best Foot Forward Every Day
What Do You Want to be When You Grow Up ?
(Video) HaptX's Latest Haptic Gloves Are Smaller and Cheaper, But Still Bulky
DAILY TECH REPORT - 8 Trends & Innovations
Take an In-Depth Look At Gen Z's Avatar Style Preferences.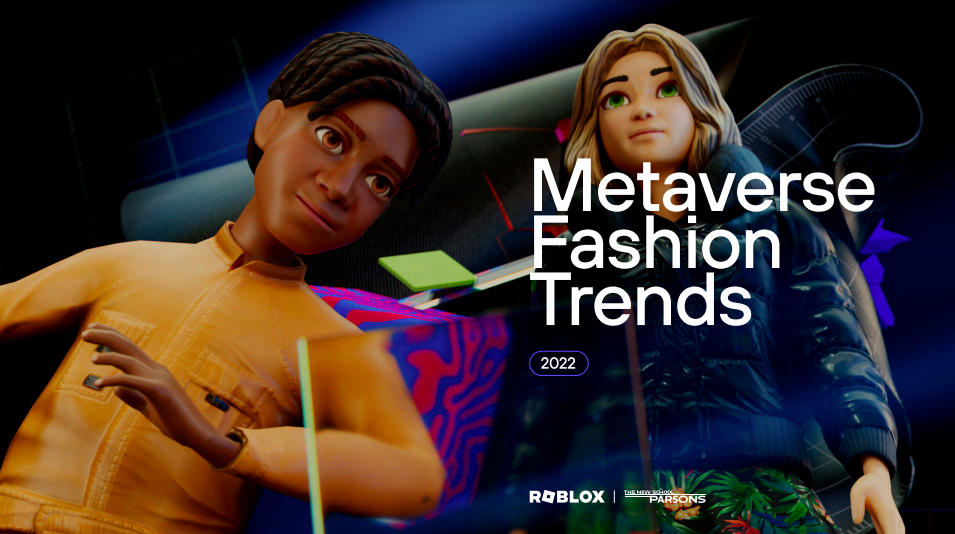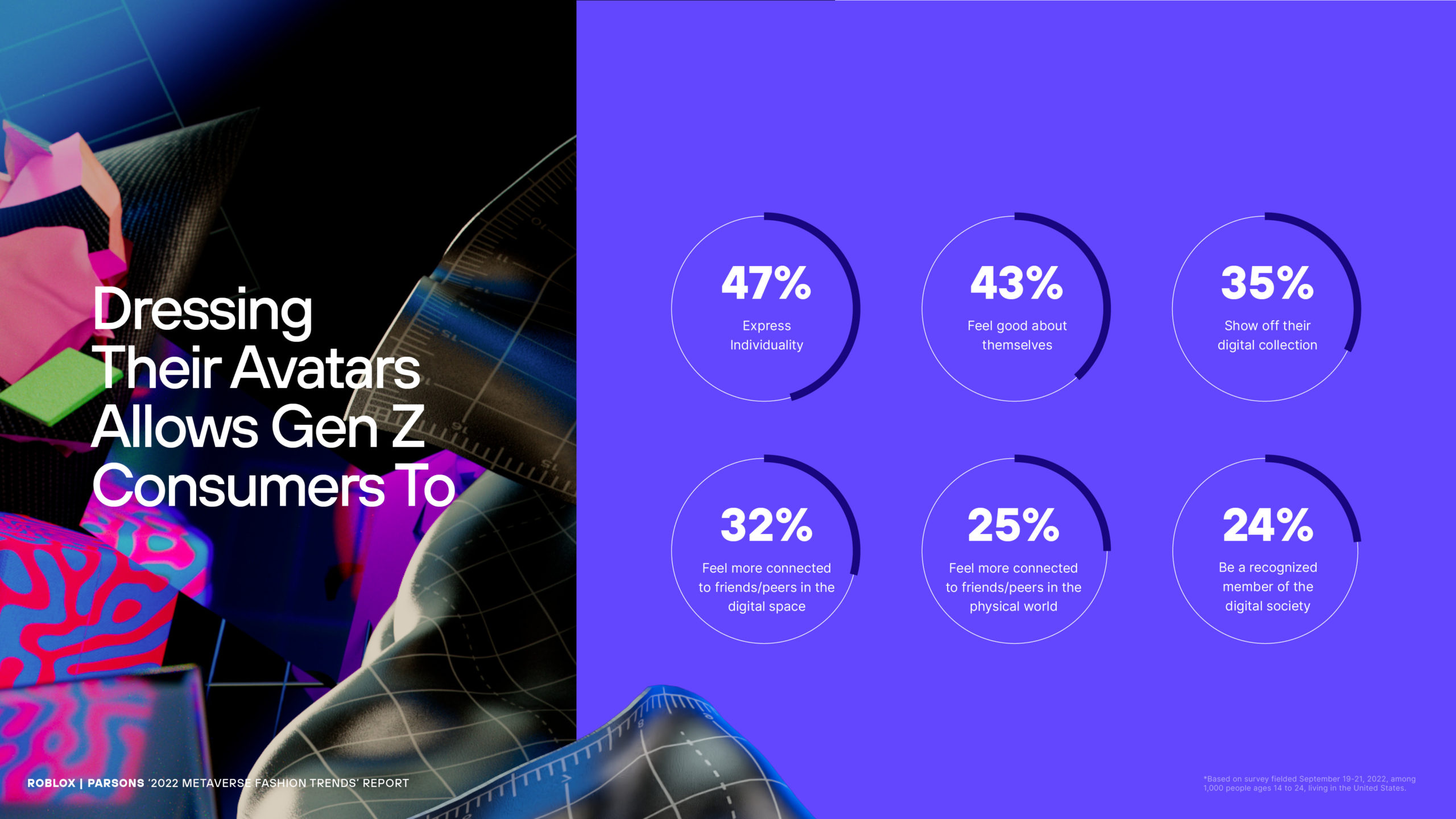 Long before the vast potential of digital fashion captured the attention of media and brands, our community members were designing, sharing, and wearing their own avatar fashion creations. For over a decade they've been redefining digital identity and their personal style, but in the past few years we've seen incredible leaps in the evolution of self-expression on our platform.
Iconic fashion brands have established presences here on Roblox by partnering with our creator community, and the rollout of Layered Clothing – our new technology powering hyper-realistic 3D clothing – has once again raised the bar for what our creators are able to make. As the opportunities for self-expression and personal style accelerate, we decided to take a moment to connect with our incredible community and get a deeper understanding of their experience with digital fashion. We conducted extensive research, drawing both from our own platform as well as survey responses¹ from a thousand Gen Z members who are active on Roblox and closely familiar with digital fashion.
To offer an in-depth look at the digital fashion trends we've been seeing, we've partnered with one of the world's leading institutions for art and design education, Parsons School of Design, to launch our '2022 Metaverse Fashion Trends' report. Here are the top 5 trends.
2. The Influence of Creator Communities on Fashion Is Accelerating
In 2022 alone, more than 11.5 million creators designed over 62 million virtual clothing and accessory items on Roblox. These creators dress millions of people all over the world and impact how they express themselves both in the digital and physical worlds.
To put that in context, there are at least 200 times as many creators designing clothing and accessories on Roblox as the estimated number of fashion designers creating physical collections in the United States².
In 2022, we've seen a large influx of global fashion and beauty brands creating digital fashion and immersive experiences for Roblox (or integrating with existing popular experiences on the platform) – including Gucci, Burberry, Carolina Herrera, Tommy Hilfiger, NARS, Alo Yoga and supermodel and entrepreneur Karlie Kloss, as well as metaverse-only fashion companies like DRESSX. Most of these brands are tapping into the vast expertise of Roblox community members who can help create beautiful digital fashion and other engaging content on the platform.
Avatar models during Tommy Hilfiger show on Roblox
2. Self-Expression and Inclusivity in Digital Fashion Is Essential for Gen Z
The vast majority of Gen Z who are active on Roblox said in our survey that they have customized their avatars, with half of them changing their avatar's clothing at least every week.
Just like in the physical world, people tend to connect with and react to others around them based on the way they look and dress, which can have a profound impact on their self-confidence and relationships. Dressing their avatars allows consumers to express their individuality (47%) and feel good about themselves (43%), but also to show off their digital collection and feel more connected to peers – in both the digital and physical worlds.
In fact, 2 in 5 respondents said expressing themselves with clothing and accessories in the digital world is MORE important than expressing themselves in the physical world.
Data from respondents about what dressing their avatars allows Gen Z consumers to do
Diverse options for avatar customization are important for the majority of community members who can easily customize on Roblox to be whoever they want to be. In our survey, they've noted the importance of having a full range of skin tones (said 70%) and a full range of body sizes (64%), along with a full range of hair colors, textures and styles (70%).
Seven in ten consider inclusivity in digital clothing designs to be "very" or "extremely" important. This challenge can be addressed by new technology like Layered Clothing, a new feature that's been embraced by both our community creators and users. Over the course of 2022, over 157 million users on Roblox have already acquired both free and paid items community-created Layered Clothing items.
3. Nearly 3 in 4 Gen Z Say They Spend on Digital Fashion
People are expressing themselves through their avatar style and Roblox fashion choices similarly to how they do in the physical world, with over half (53%) saying their style changes based on their mood or feelings on a particular day, and 37% changing clothing based on where they are going in the metaverse and what they are doing. Many (42%) would change their clothing to immediately try on a new purchase.
Data from respondents around what makes them change their avatars style
Among those who say they spend money on digital fashion, 31% of users said they'd typically spend up to $5 per month and another 30% said up to $10-$20 per month, while nearly 12% will spend $50-$100 monthly. Over 1 in 4 say they've spent anywhere from $20 to over $100 on a single virtual item.
4. IRL Trends Influence Avatar Fashion (and Vice Versa)
In our survey, 70% of Gen Z said their avatars dress at least somewhat like their IRL style, with equally as many (70%) saying they also get physical style inspiration from dressing their avatars.
Take the #Barbiecore trend, which started on social media as part of the excitement for the upcoming "Barbie" movie, or Y2K nostalgia: the Roblox community rushed to reflect these key 2022 fashion trends both in creation of items and their avatar styling.
The timely launch of the Forever 21 x Barbie collection helped ensure shoppers could quickly (and literally) get dolled up for their metaverse adventures, and the Y2K trend has been peaking on Roblox, with total purchases of Y2K-labeled items surpassing 188 million from January to September 2022.
5. The Prestige of Digital Fashion Is On The Rise
Recent industry research points to Gen Z's "outsized impact on culture and economy," given that this consumer group accounts for approximately a quarter of the world's population, and already has a purchasing power of hundreds of billions of dollars in the U.S. alone. With this demographic spending more time in immersive social spaces like Roblox, the prestige and impact of digital fashion are on the rise.
More than half (58%) of respondents consider a digital fashion designer career to be just as impressive or even more impressive than the role of a physical fashion designer. This number grows significantly among people who spend up to $100 per month on avatar fashion, where 54% said being a digital fashion designer is more impressive.
As we look forward to the near future, we expect the next generation of fashion designers and brands to be deeply immersed in digital fashion, dressing avatars, designing 3D digital versions of their collections and creating metaverse-exclusive items.
Respondent data around what Gen Z is looking for from digital fashion brands and designers
We couldn't be more excited to collaborate with the thought leaders at Parsons School of Design to see, along with brands, designers, and our Roblox community, how we can further enable self-expression and empower our community to become whoever they want to be – on our platform and beyond.
Philips is a dual winner in the 2022 Innovation by Design awards for its efforts to make MRIs less scary for young patients and to help emergency departments accommodate young people in crisis.

Hospitals are intimidating even for adults, but they're particularly overwhelming for pediatric patients, millions of whom are hospitalized every year. Multinational company Philips is known in healthcare both for its hospital imaging equipment and facility design. In recent years, it's put an increased focus on building patient experiences that make hospitalization and imaging less frightening for patients–looking at everything from rethinking equipment to redesigning entire wings of hospitals.
"We have an amazing research facility doing advanced, breakthrough technology," says Chief Design Officer Sean Carney, who leads a team of 700, "but my designers are there to make sure the human-centered design side is always present."
[Image: courtesy Philips]
This mission is particularly coming through in two areas of the hospital: radiology, where Carney's team is helping young patients be more comfortable with MRIs, and the emergency department, where Philips is creating an adaptive environment for pediatric behavioral health patients. These efforts have won Philips two 2022 Innovation by Designs Awards: User Experience, for its work making pediatric MRIs less daunting, and Health, for its efforts to re-imagine the behavioral health experience for children.
[Image: courtesy Philips]
MRIs are tough on young patients and hospital staff. The scan can be particularly scary for children sensitive to small spaces and loud noises (sound levels during a scan can hit as high as 130 decibels), and a nervous patient can affect the quality of a scan and delay a crammed radiology schedule. Typically, radiologists will sedate nervous patients, which helps get a clear image, but "there's a risk of using anesthesia with anybody, especially children," Carney says. To minimize the need for sedation, the Philips design team sought an approach to reassure these patients about the MRI process.
[Image: courtesy Philips]
The result is a gamified experience that acquaints children with how an MRI works even before they show up to the radiology department. Using an app, kids can watch videos featuring an elephant named Olly who has to get an MRI just like they do. And if they want to really immerse themselves, the app uses augmented reality to render an Olly-sized scanner in their own space. Once at the hospital, they can perform a scan on Olly themselves using a scaled-down MRI machine while watching a video of what it finds inside Olly. During the real MRI, Olly guides patients through the scan.
[Image: courtesy Philips]
As a result of the coaching program, kids "feel a little bit more familiar with what's going to happen and there's less surprise when they get there," Carney says, adding that more than 100 hospitals worldwide have installed the mini-scanner system, which includes the gamified app. "It also helps streamline the operations of a busy radiology department and reduce the stress levels on staff in the hospital."
[Image: courtesy Philips]
Besides the content for younger children, Philips's solution includes experience-enhancing features inside the MRI scanner for older pediatric patients. Designed in concert with psychologists and clinicians, tools include light therapy and video content, as well as a soothing voice-over explaining the process and instructing them when to hold their breath and for how long.
[Photo: Philips]
Beyond the radiology department, Philips is bringing calming patient-experience tools to the emergency department in light of a pandemic-driven uptick in emergency room visits from children and adolescents having mental health crises.
[Photo: Philips]
"EDs are trauma centers by definition; they're more suited to treating traffic accidents or a broken arm, not a mental health crisis," Carney says, adding that because beds were limited due to COVID-19, children admitted for behavioral crises were kept in the ED instead of getting a separate room. "It's just not conducive to a de-escalation of the problem because there's noise, there are lights going off, there's lots of stimulus."
The design team worked with psychologists and ED doctors and nurses to translate their learnings from the MRI experience to the ED, turning small, windowless emergency rooms into calming spaces for children in crisis. "That was the start point, but then we went beyond that, then we started to think about how we can engage them and give them positive distractions like playing games in order to bring them down a level and give them a feeling of control."
[Photo: Philips]
The result was what Philips calls the Behavioral Health Experience solution. It uses a customizable touchscreen with games, a TV, music, and video chat capabilities to engage patients. After an initial three-hospital pilot in Texas, Philips added a fourth Texas hospital and now has 20 facilities demanding the solution, which Carney says is a testament to the lean approach his team uses, and its ability to focus on the big picture.
"At the end of the day, my team is in a really unique position to think about end-to-end experiences, because we're not constrained by just doing an app or a physical product," he says. "Nobody wants to be in a [hospital] but we can try to get them through it so they feel in control, they understand what's coming and what's happening to them, and that will help them along the journey."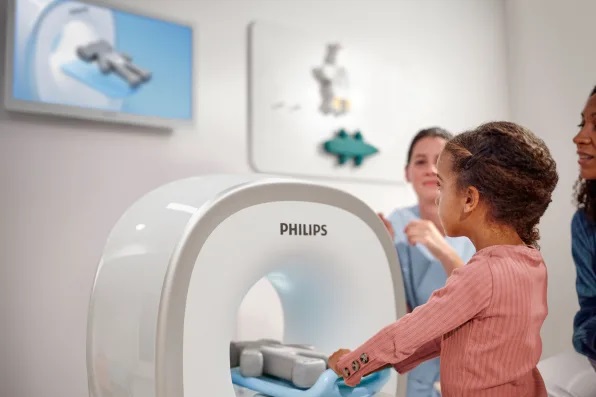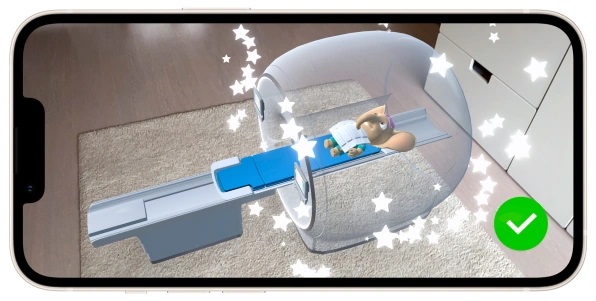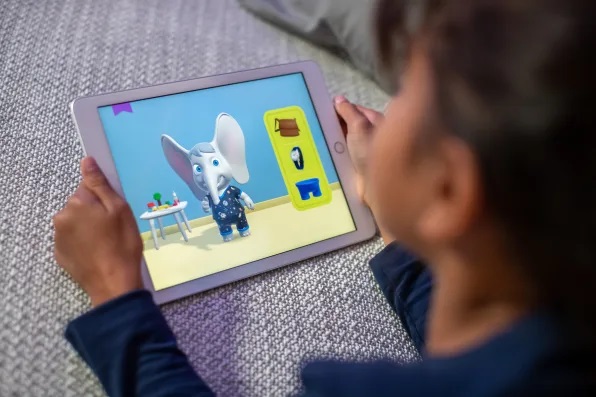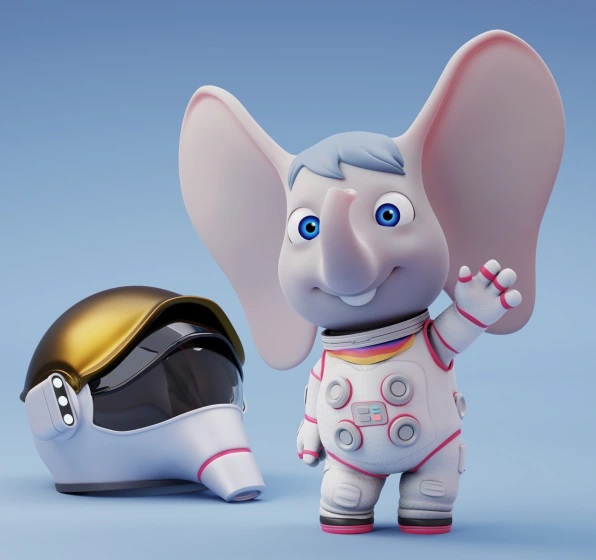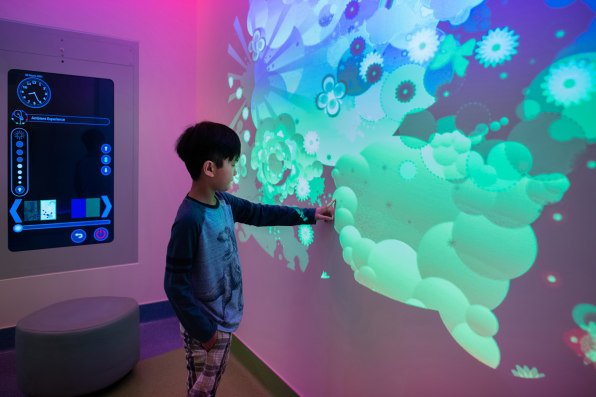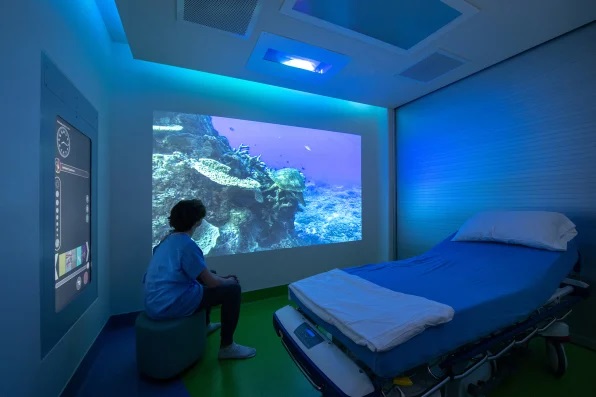 Our global population is getting older. By 2050, the OECD predicts that 30% of people worldwide will be aged 65 or over.

While some countries are relatively prepared to handle this increase in the elderly demographic, others are already feeling the squeeze and struggling with the challenges that come with a rapidly aging population.
Which countries are the best equipped to support their senior citizens? This graphic uses data from the 2022 Natixis Global Retirement Index to show the best countries to retire in around the world, based on several different factors that we'll dig into below.
What Makes a Country Retirement-Friendly?
When people consider what makes a place an ideal retirement location, it's natural to think about white sand beaches, hot climates, and endless sunny days. And, in truth, the right net worth opens up a world of opportunity of where to enjoy one's golden years.
The Global Retirement Index (GRI) examines retirement from different, more quantitative perspective. The annual report looks at 44 different countries and ranks them based on their retirement security. The index considers 18 factors, which are grouped into four overarching categories:
Health: Health spend per capita, life expectancy, and non-insured health spend.

Quality of Life: Happiness levels, water and sanitation, air quality, other environmental factors, and biodiversity/habitat.




Material Wellbeing: Income per capita, income equality, and employment levels.




Finances in Retirement: Government debt, old-age dependency, interest rates, inflation, governance, tax pressure, and bank non-performing loans.
Using these 18 metrics, a score from 0.01 to 1 is determined for each country, which is then converted to a percentage. For a more detailed explanation of the report's methodology, explore Appendix A (page 72) of the report.
Norway is at the top of this year's ranking for several reasons. For starters, it achieved the highest score in the Health category, largely because of its high average life expectancy, which is 83 years old, or 9 years longer than the global average.
Norway also has the highest score of all the countries for Governance, a category gauged by assessing country corruption levels, political stability, and government effectiveness, and is in a three-way tie with Japan and Luxembourg in the Health category.
Second on the list is another European country, Switzerland, with an overall score of 80%. It's the highest-ranked country for environmental factors, and it also has the highest overall score in the Finances in Retirement category.
And from a regional perspective, North America comes in first place despite the fact no countries in the region made it into the top 10. North America only has two countries included in the ranking: Canada (#15) and the U.S. (#18), which both rank relatively high.
In contrast, Western and Eastern Europe have more countries to account for, which ultimately lowers their regional average.
The Future of Retirement
As longevity rises and the retirement aged population continues to increase worldwide, many countries are opting to change their pension policies in an effort to encourage people to stay in the workforce longer.
For instance, in 2018, people in the UK could claim their State Pension once they turned 65. By 2028, this age requirement will be raised to 67.
However, government intervention may not be necessary, as many people around the world are already staying in the workforce beyond the traditional retirement age (perhaps more out of necessity than choice).
Two former Shopify employees think they have cracked the code — through no-code actually — for small e-commerce merchants to go beyond the one-size-fits-all marketplace tools and provide personalized customer experiences.

Corey Holmes and Matteo Grassi started Popup in 2021 after watching merchants selling through marketplaces (e.g., Shopify and BigCommerce) use the homepage and few product pages given, but then have to hack together a half-dozen more tools to build out everything from customer relationship management to email marketing tools. Holmes told TechCrunch that these are often tools that don't easily integrate with the main e-commerce platform without needing some custom coding.
Though e-commerce has waned some since stores returned to in-person shopping, global retail e-commerce sales reached about $5.2 trillion in 2021 and are forecasted to grow by 56% to just over $8 trillion dollars by 2026. This is why Holmes and Grassi say legacy platforms that don't provide a way to differentiate storefronts or personalize customer experiences are not meeting merchant needs.
Enter Popup, a no-code platform for the creation, management and hosting of online stores, from landing pages to ad campaigns to checkout, using a drag-and-drop visual editor.
"There's a lot of merchants that we've been working with, and it opened their eyes to what we can do differently," Holmes said. "When you look at Popup, we allow you to build any type of online commerce experience that you need in a matter of seconds. It's just a drag-and-drop to be able to connect everything based on your business."
Popup Corey Holmes Matteo Grassi e-commerce
Popup co-founders Corey Holmes and Matteo Grassi. Image Credits: Popup
The company's platform started in beta in September and will be open to the public in the first quarter of 2023. It is making money through a monthly subscription and through checkout processing fees. As such, Holmes and Grassi said they weren't able to talk about traction other than they have 40 employees.
In the meantime, Popup raised $3.5 million in a pre-seed round. Holmes and Grassi had started a dropshipping company, Viceroy Group, together and had bootstrapped that into an eight-figure company before starting Popup, so this isn't their first foray into venture capital.
The round was led by Accel and included Seedcamp, 20VC and a group of angels like ex-Shopify CMO Jeff Weiser and Hopin CEO Johnny Boufarhat. The funding will be used to launch the platform, hire more staff and establish new partnerships.
"We saw a clear value proposition with merchants that are marketing savvy, are trying to grow and understand that stage of the journey," Grassi told TechCrunch. "As we develop, we will be able to move into other sectors where we can offer some features that are requested."
Economic and political turbulence have prompted speculation that the world is already deglobalizing. But the evidence suggests that global integration is here to stay, albeit with nuance.

Ours is an interdependent world, connected by global flows of goods, services, capital, people, data, and ideas. Global value chains have been built on these flows, creating a more prosperous world. However, in light of the pandemic, Russia's invasion of Ukraine, and years of rising tensions between the United States and China, some have speculated that the world is already deglobalizing. New MGI analysis finds a more nuanced reality. The world remains deeply interconnected, and flows have proved remarkably resilient during the most recent turbulence. Furthermore, no region is self-sufficient. The challenge therefore is to harness the benefits of interconnection while managing the risks and downsides of dependency—particularly where products are concentrated in their places of origin.
This new research paper offers a view of the flows driving global integration and an assessment of interdependency and concentration risks and the important role of multinational corporations. The research is based on a comprehensive assessment of trade (30 global value chains spanning resources, manufactured goods, and services), capital, people, and intangibles flows as well as an analysis of about 6,000 globally traded products.
While global trade has stabilized, flows linked to knowledge and know-how are driving global integration
Flows of trade, people, capital, and data bind the world together, as MGI has documented since the early 2010s. Over the past decade, newer flows linked to knowledge and know-how have come to the fore.
Growth in global flows is now being driven by intangibles, services, and talent. They have picked up the baton from goods trade, whose growth as a share of the global economy stabilized around 2008 after 30 years of rapid expansion. Flows of services, international students, and intellectual property grew about twice as fast as goods flows in 2010–19. Within services, flows of knowledge-intensive services—including professional services, government services, IT services, and telecommunications—are growing the fastest. Data flows grew at nearly 50 percent annually (Exhibit 1).
Exhibit 1
Flows of intangibles, services, and students are now driving global integration.
We strive to provide individuals with disabilities equal access to our website. If you would like information about this content we will be happy to work with you. Please email us at: McKinsey_Website_Accessibility@mckinsey.com
Despite the disruption caused by the COVID-19 pandemic, most global flows continued to grow—or even accelerated—in 2020 and 2021. Overall, flows of intangibles, trade, and capital increased, and their relative resilience was essential to navigating the turmoil of the pandemic. Flows of data reached all-time highs and, crucially, enabled remote working and the continued operation of businesses at a time when travel was largely impossible. Trade in manufactured goods enabled regions to retain consumption while navigating disruptions in local production bases. For example, Asian supply chains were able to bridge the drop in output of Western supply chains in 2020. Trade in manufactured goods reached a record high in 2021 despite new disruptions to supply chains even as growing consumer spending placed more demands on them. Indeed, demand for goods hit all-time highs as consumers shifted spending toward goods and away from services during lockdowns and social distancing. In 2022, trade in goods is projected to continue to grow faster than GDP despite new disruptions.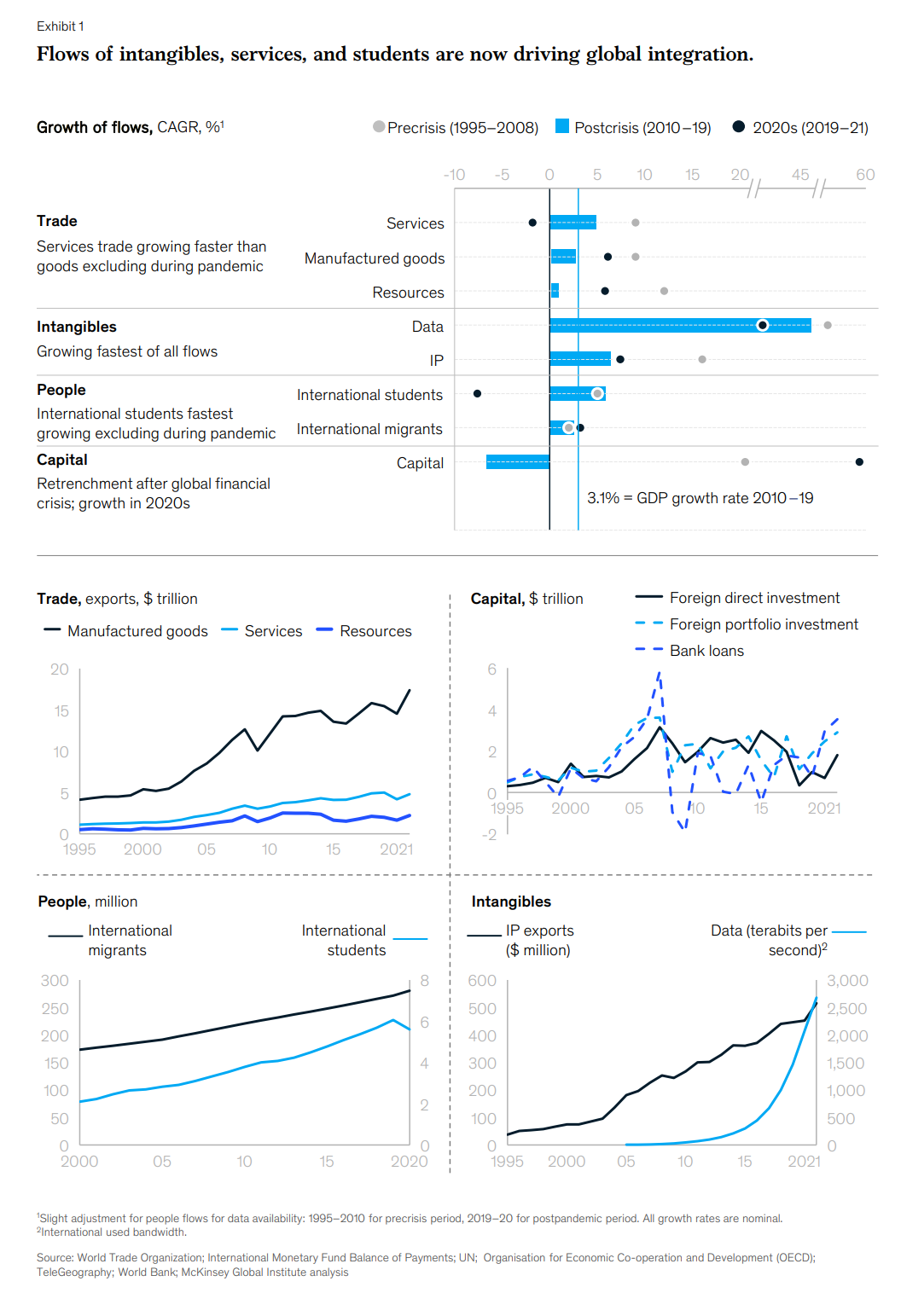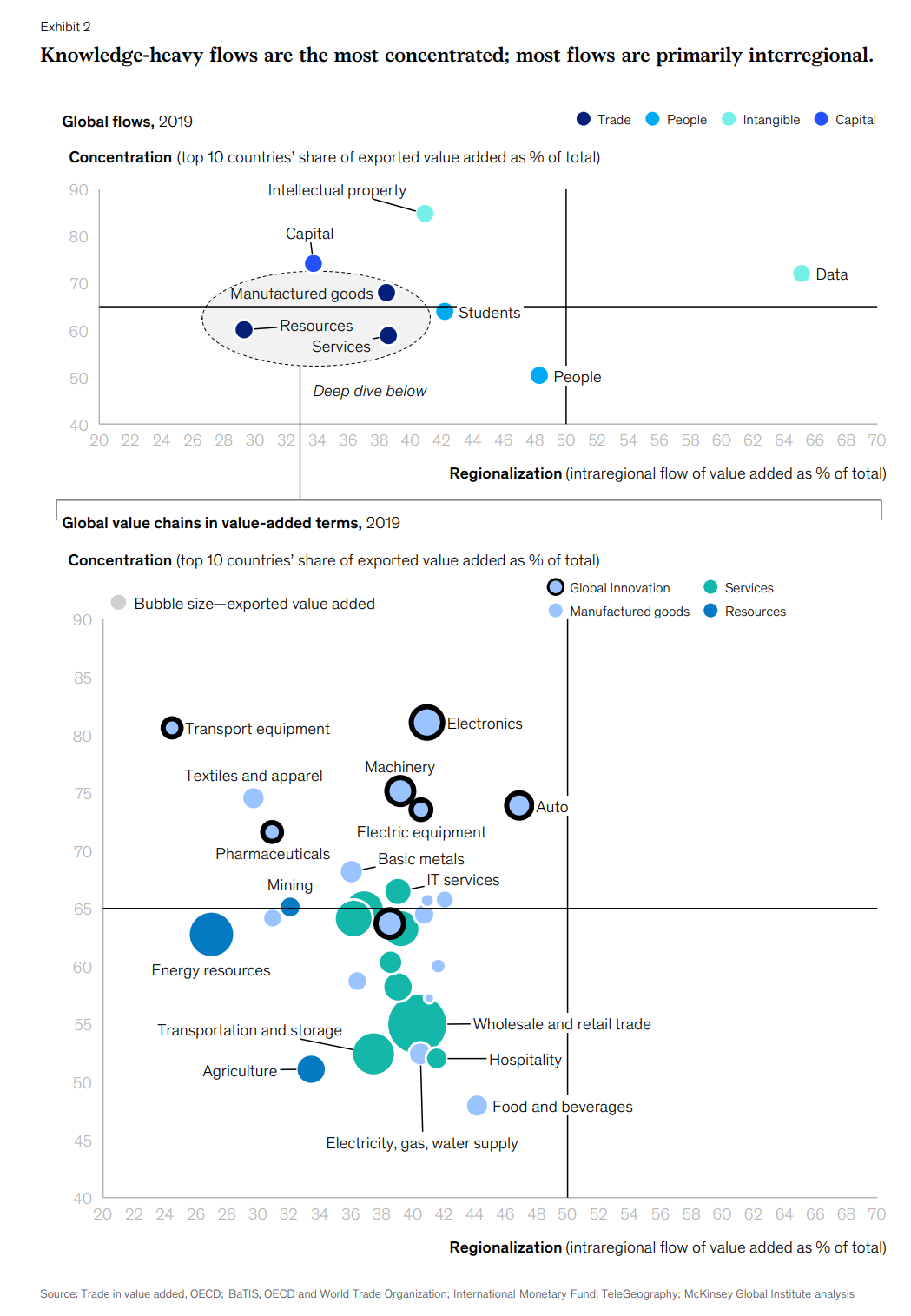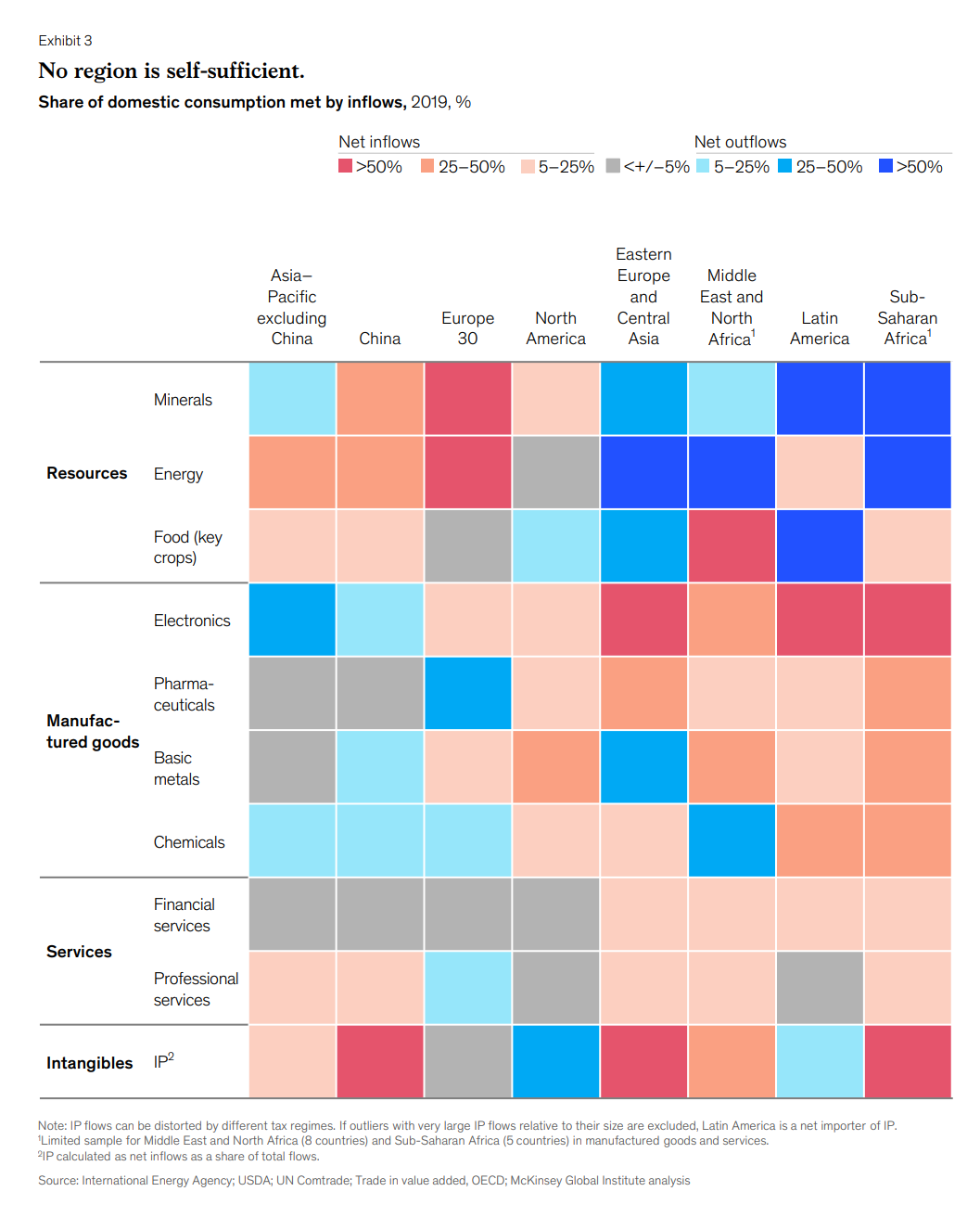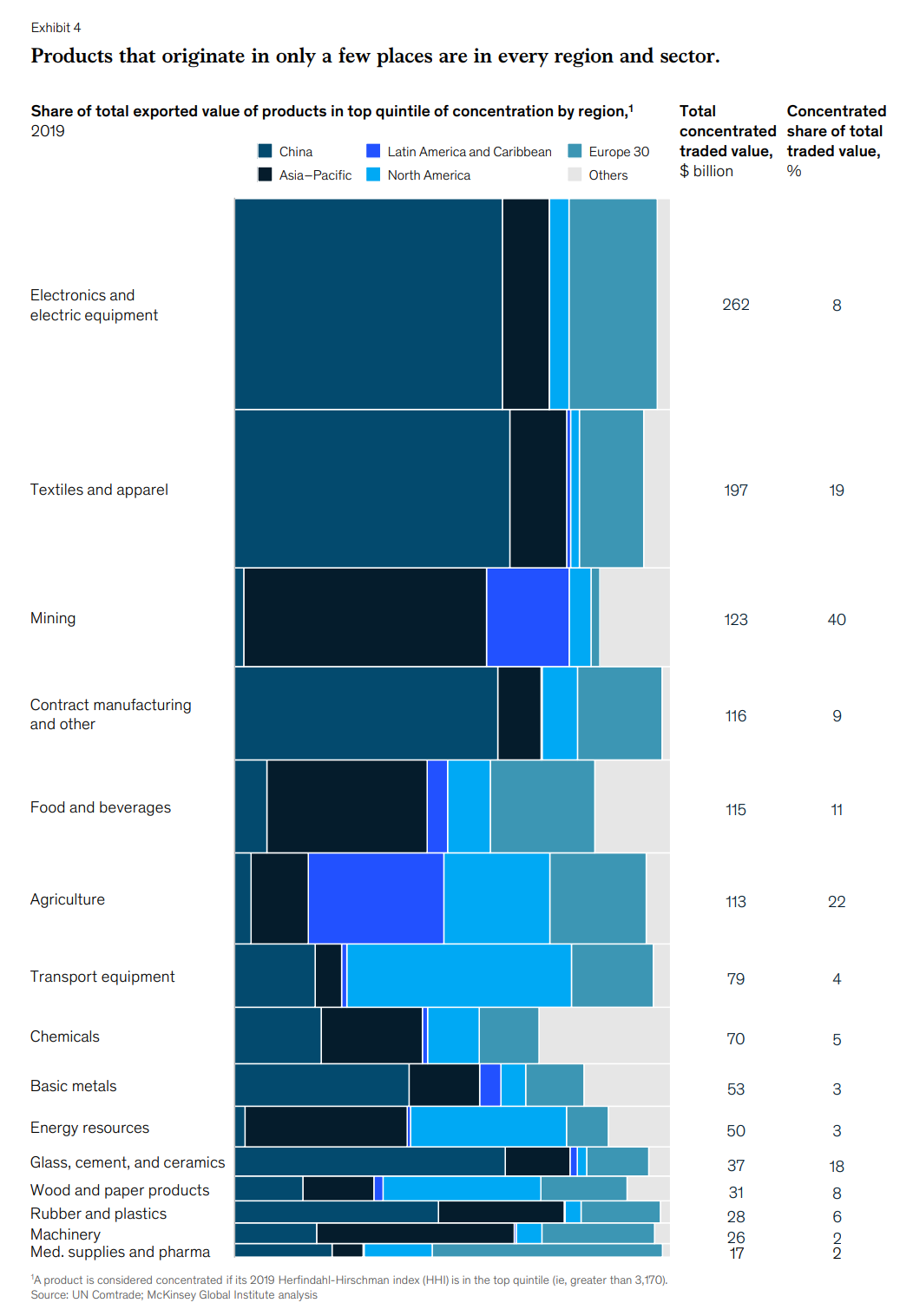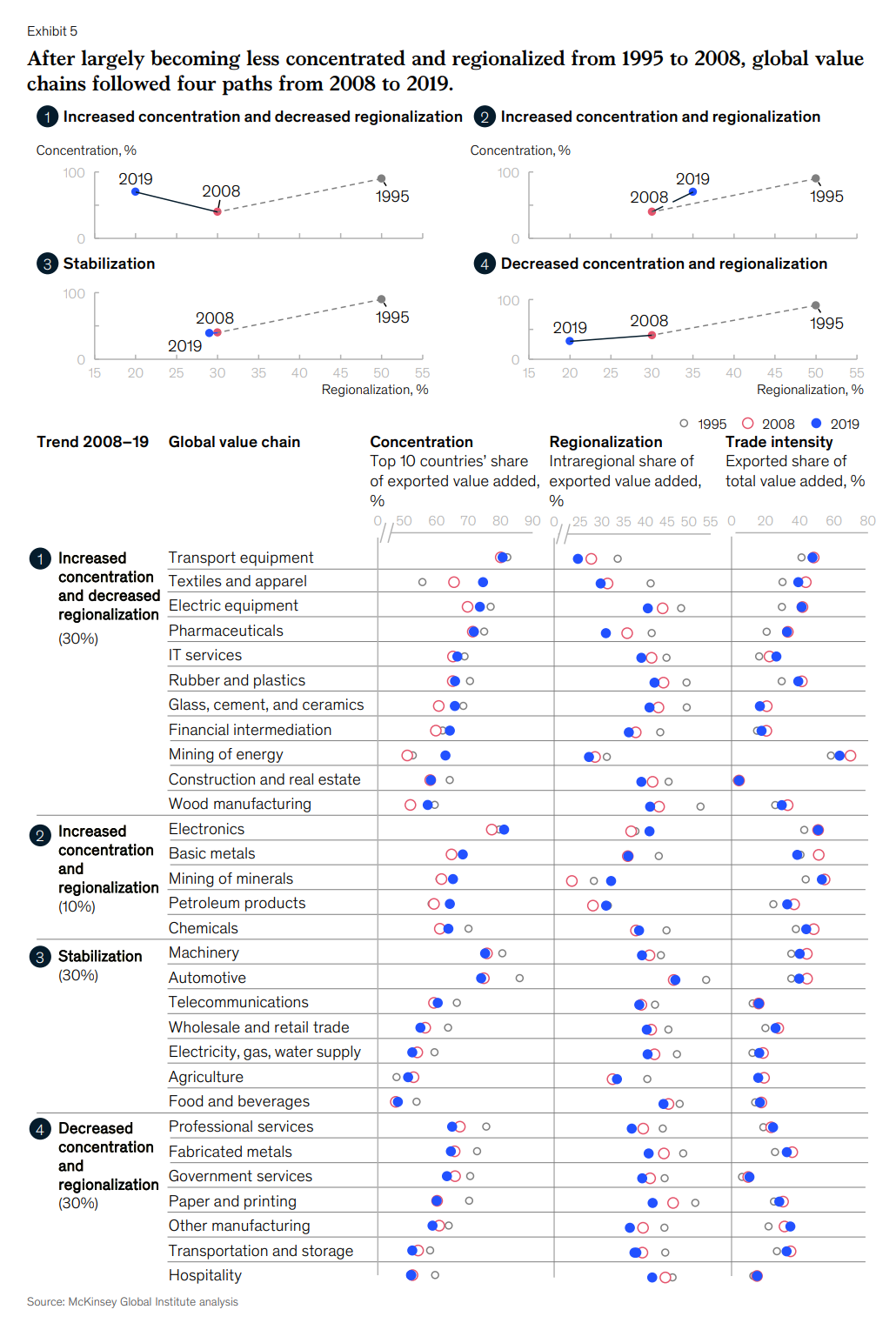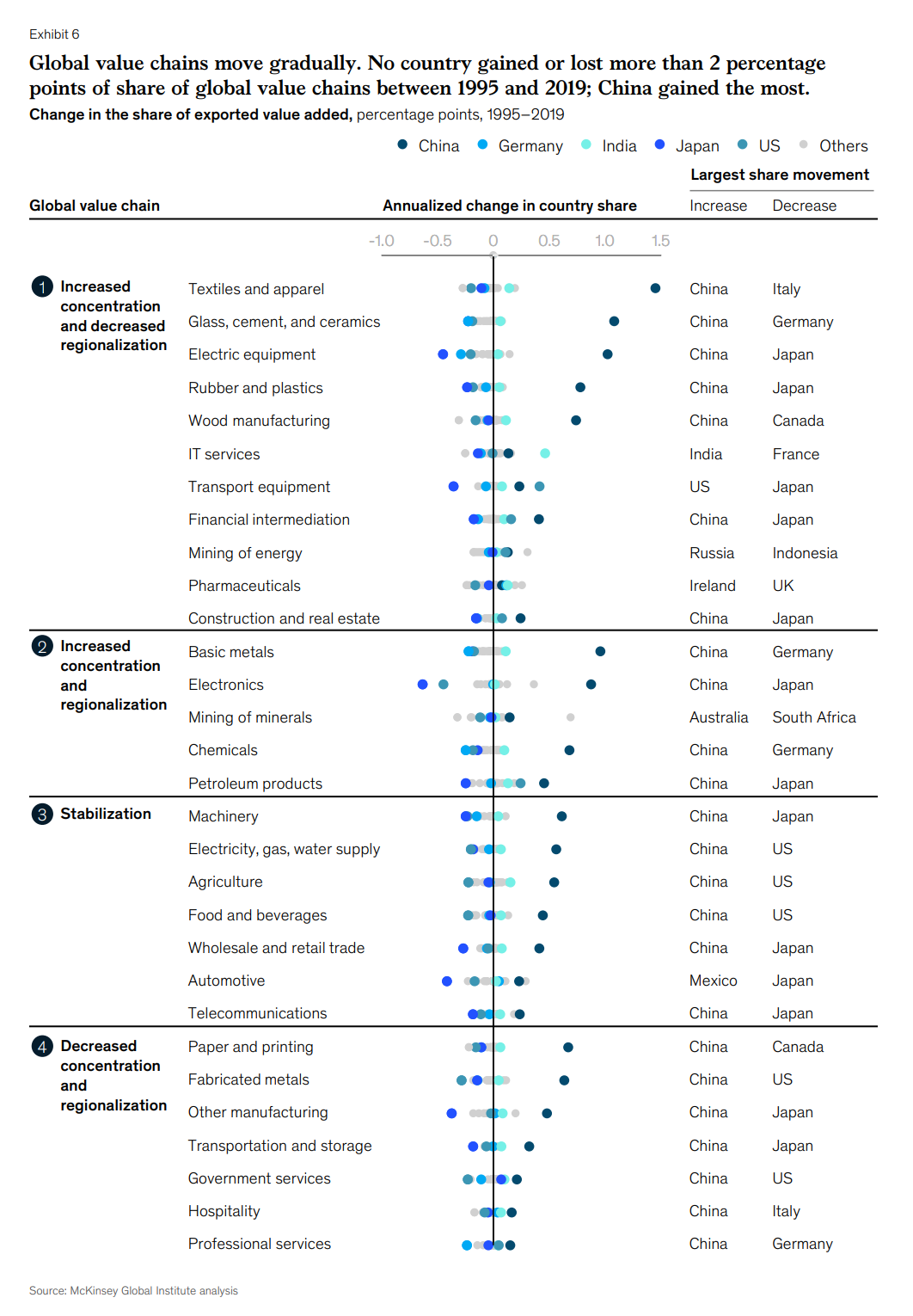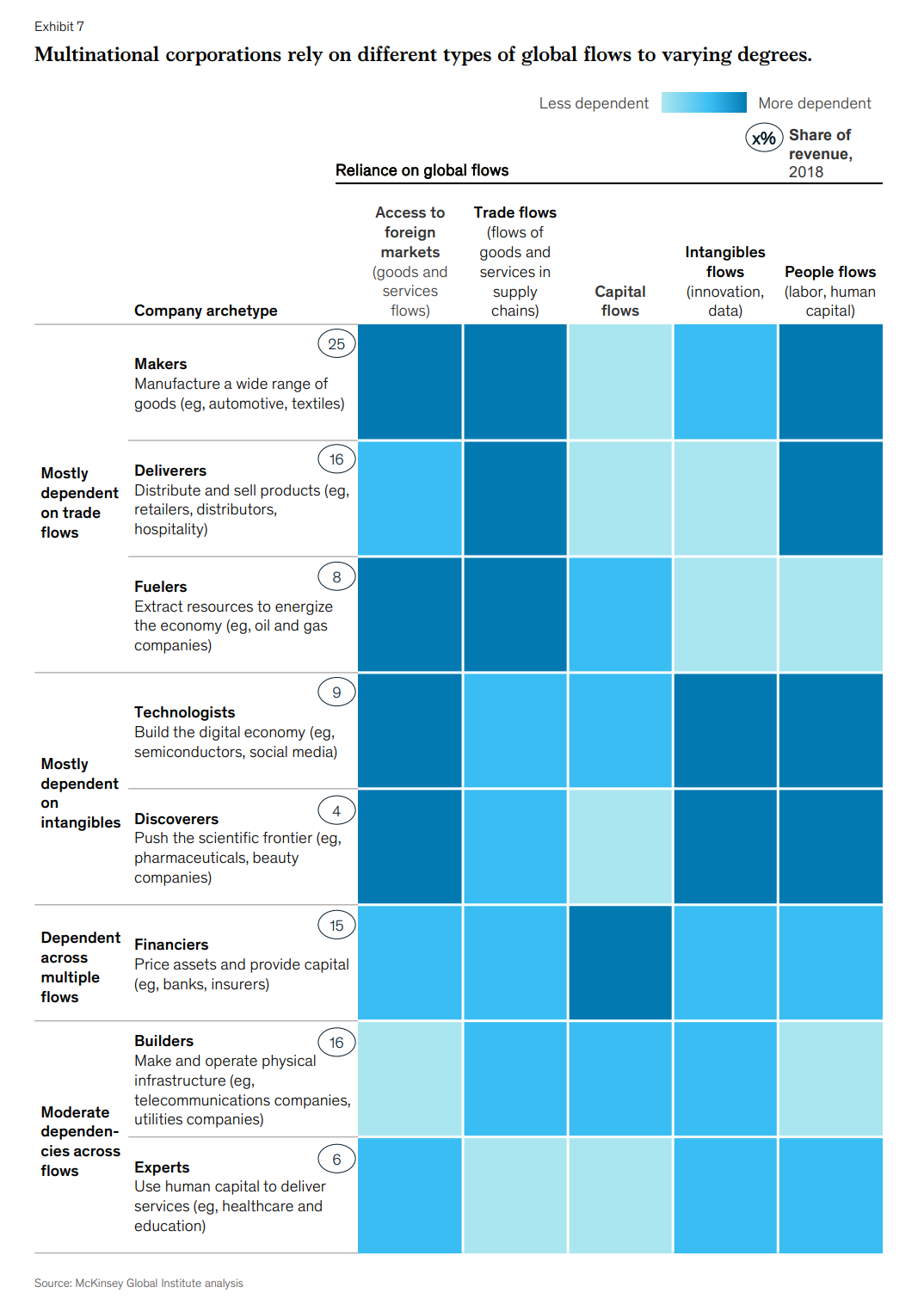 A good number of people pay very close attention to the shoes they wear, day in and day out. They make sure the shoes are not only comfortable but also stylish, matching whatever look you might have going for that day.
A bit ironically, however, most people don't give their shoes a second thought after taking them off. Most of us take special care of the clothes we wear but are content to just leave shoes by the door, in the closet, or anywhere convenient. The lack of care for footwear, however, will have very negative consequences for our feet down the road, so this shoe styler appliance concept tries to envision an easy and convenient way to make sure you're always starting the day fresh from head to toe.
Given how we use them, our shoes are bound to get dirtier and more worn out than our clothes. Despite that fact, few of us probably think of proper shoe care beyond airing them out once in a while. That sad state of footwear comes to bite us back, however, when we start to feel uncomfortable in our own shoes, not to mention get irritated or smelly feet from our beloved sneakers. Just like any chore, it isn't a matter of just laziness but more because of the lack of tools that make such a task easy and efficient.

Shoe styler appliances are starting to enter into people's consciousness for these exact reasons. We are already making it easier to take care of our clothes using technology, so it's only fair and perhaps long overdue that shoes finally get the same treatment. Day starter is such a concept and it focuses on not just storing shoes properly but also cleaning them to keep them in tip-top shape for as long as possible.
At first glance, you wouldn't even be able to tell that the appliance is designed for shoe care. It looks more like a short cabinet with a stylized ridged door. Behind that door is indeed a sort of storage, one that's designed to keep shoes sanitized and dry. This would help prolong the life of footwear, depending on the type of material, of course. There are different lengths of "sticks" that either hang your shoes up or keep boots straight so that they don't get deformed over time.
Day starter, however, isn't just simply storage for shoes. Using the appliance actually starts with the slide-out tray that you step on when you've returned for the day. The details of the design are a bit murky, but at some point, the shoes are washed and dried to clean them before storage. There are even bins for water that you'll have to fill and eventually empty.
The shoe storage also functions as a shelf, particularly for things you might need when going out. It's the perfect place to put down keys that you'll pick up again the next day, turning it into that one place you'll never forget. The design admittedly has some limitations, such as the number of shoes that can be stored inside at the same time. It does, however, bring to mind the importance of caring for footwear, especially given how we critically depend on them to go places.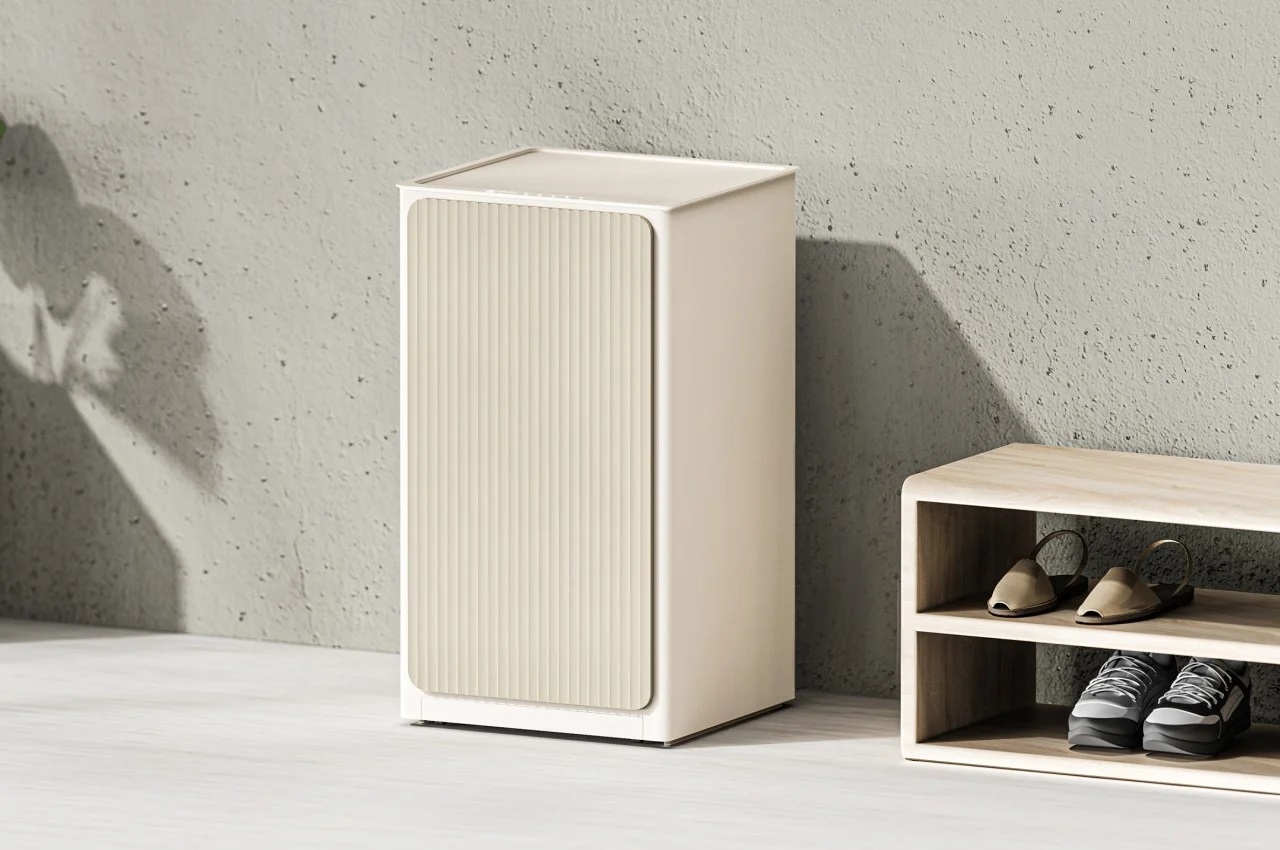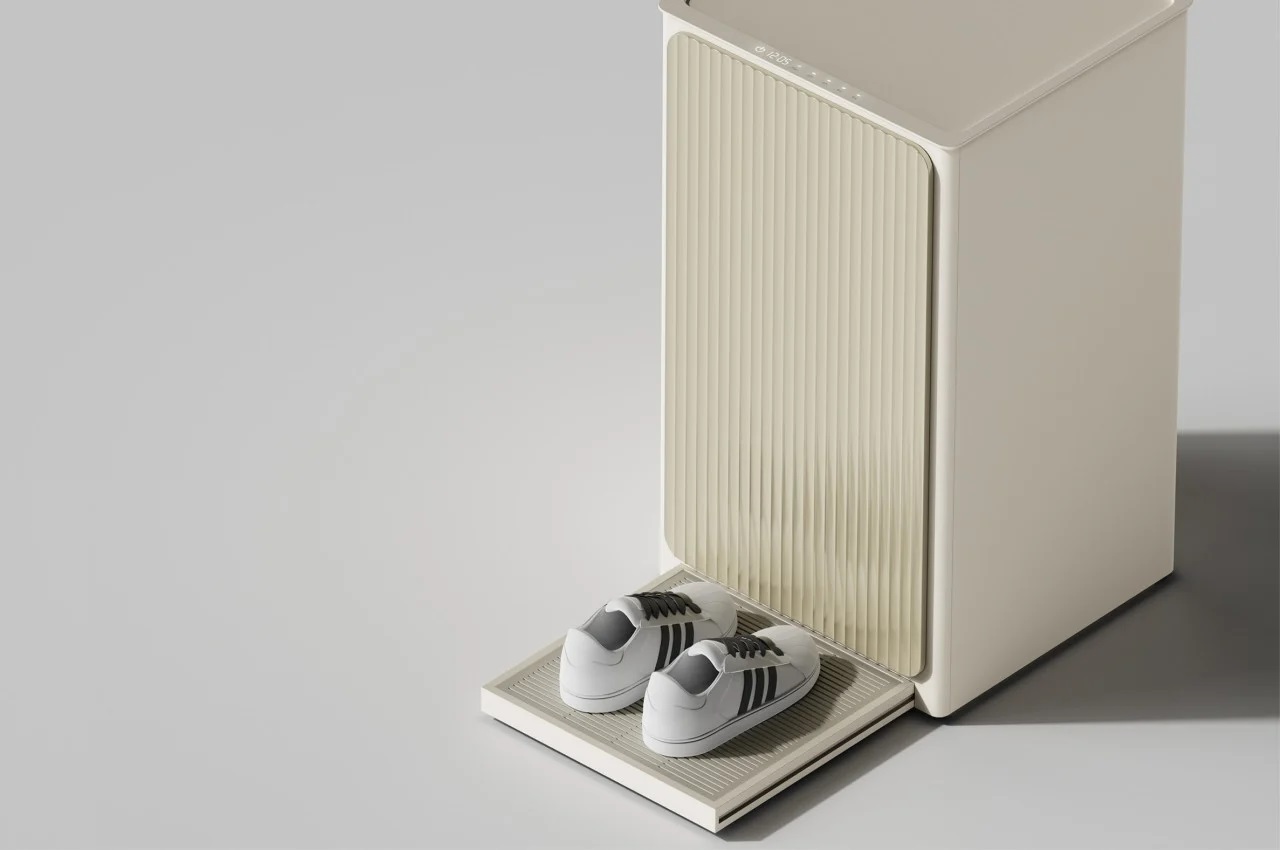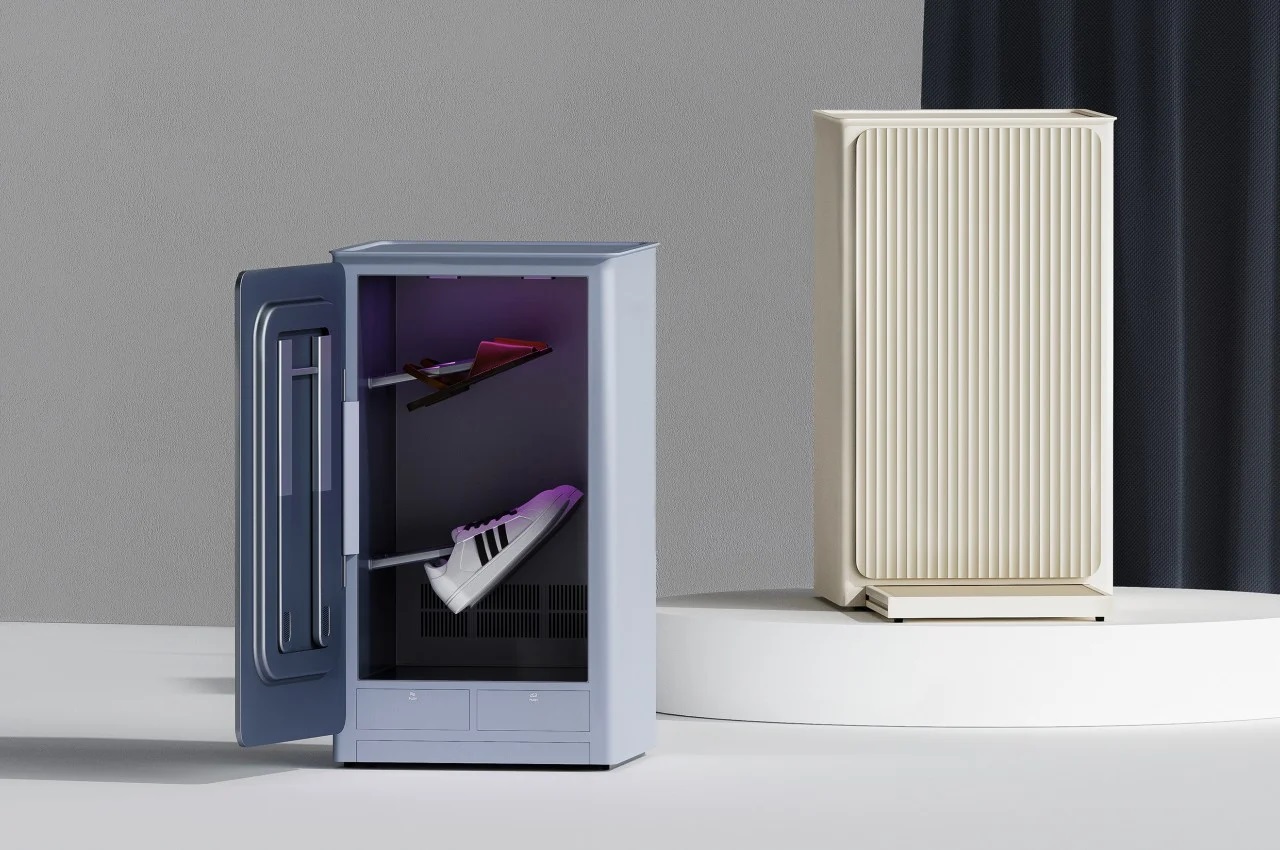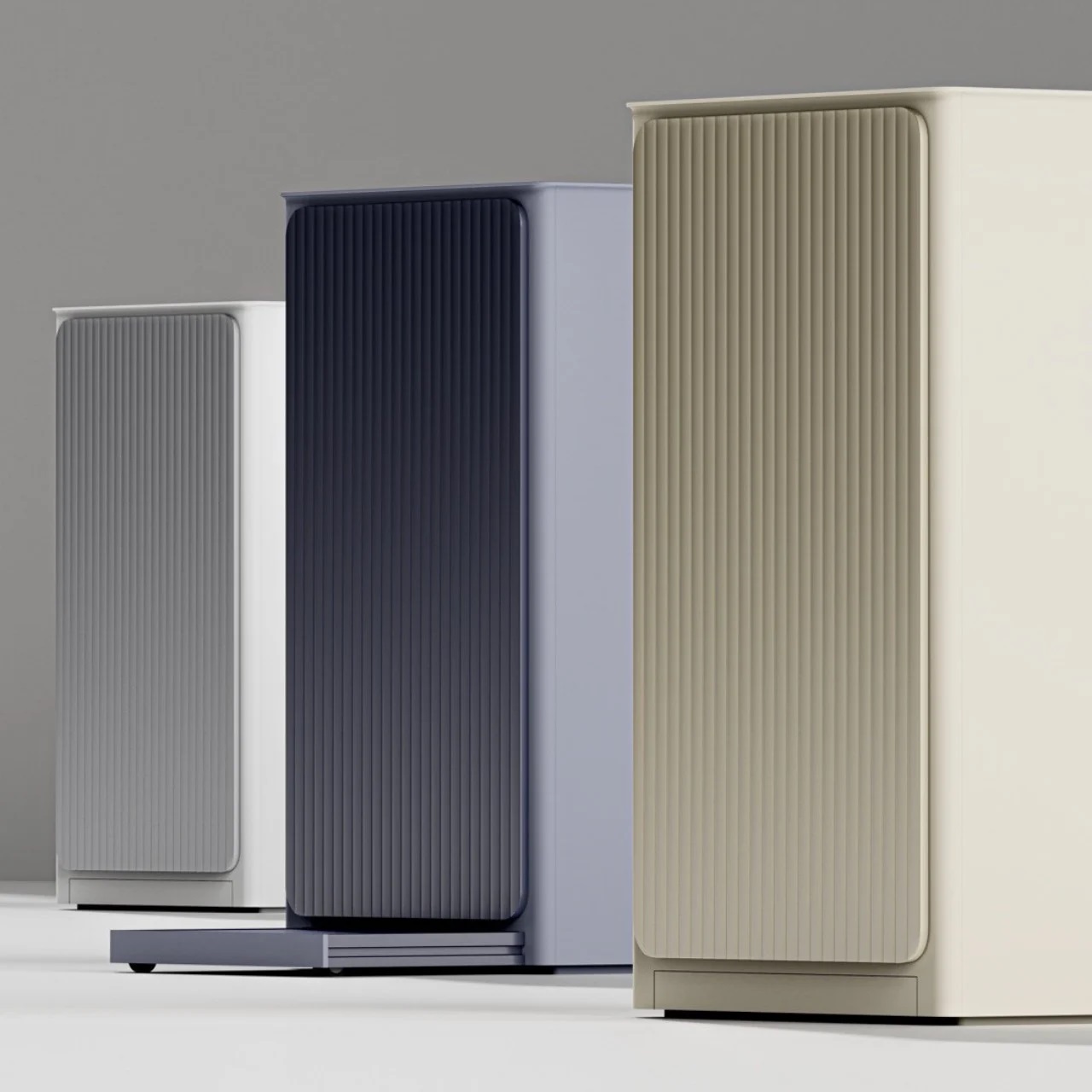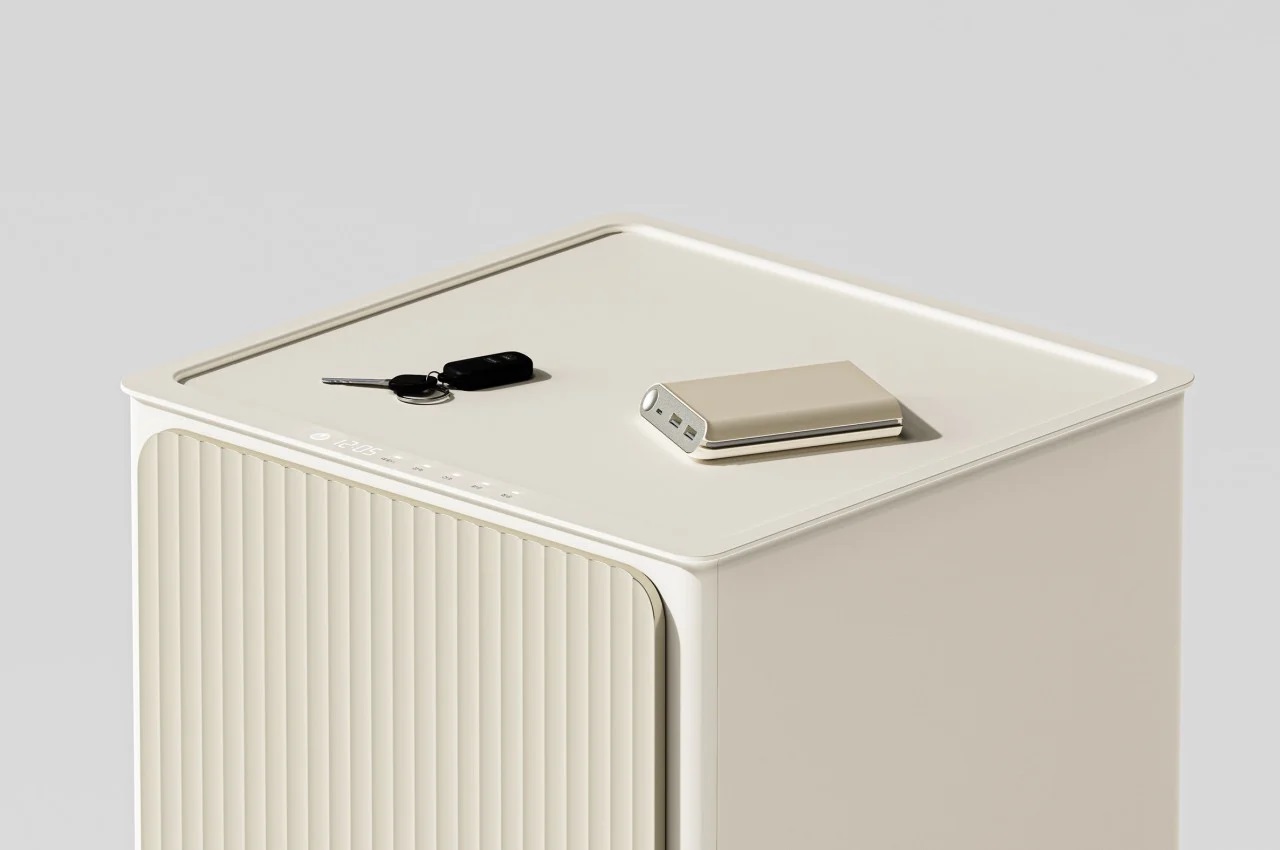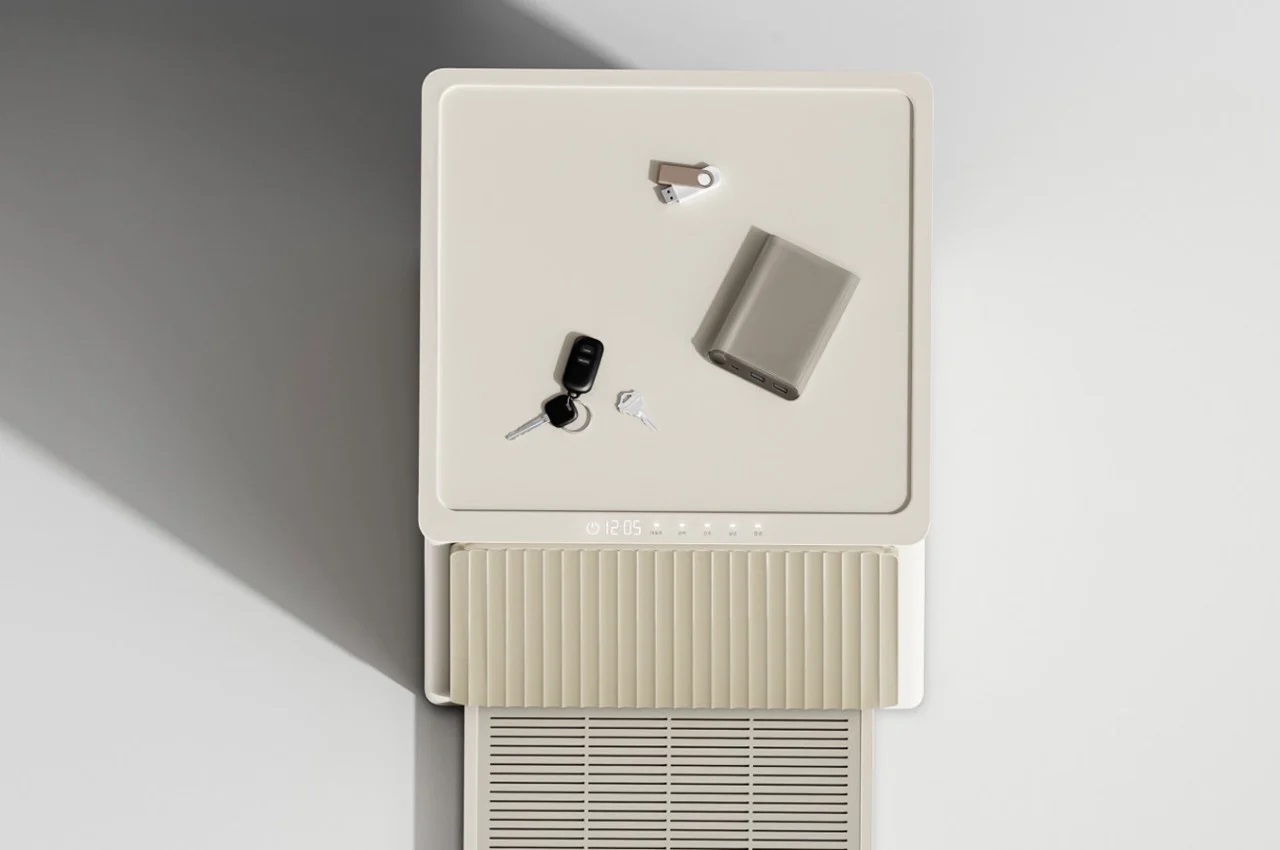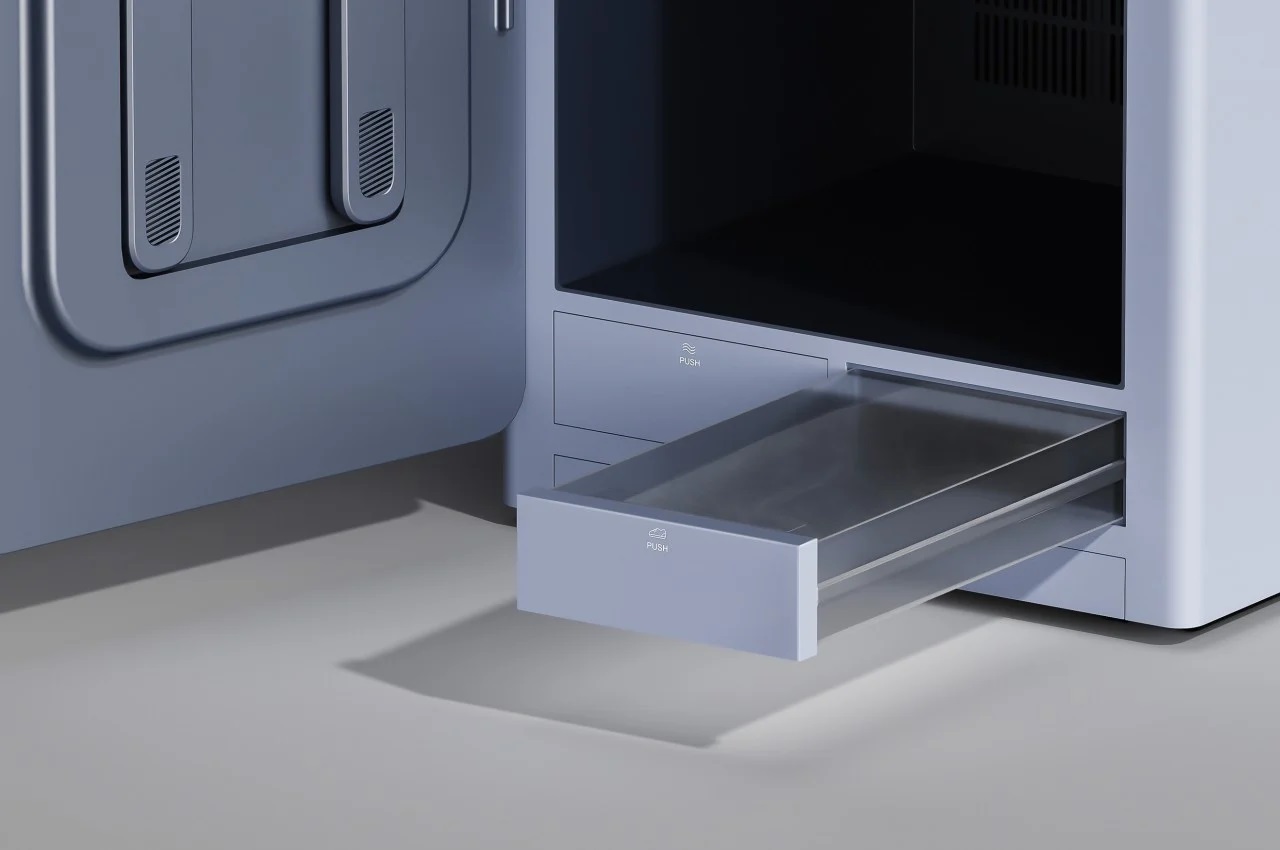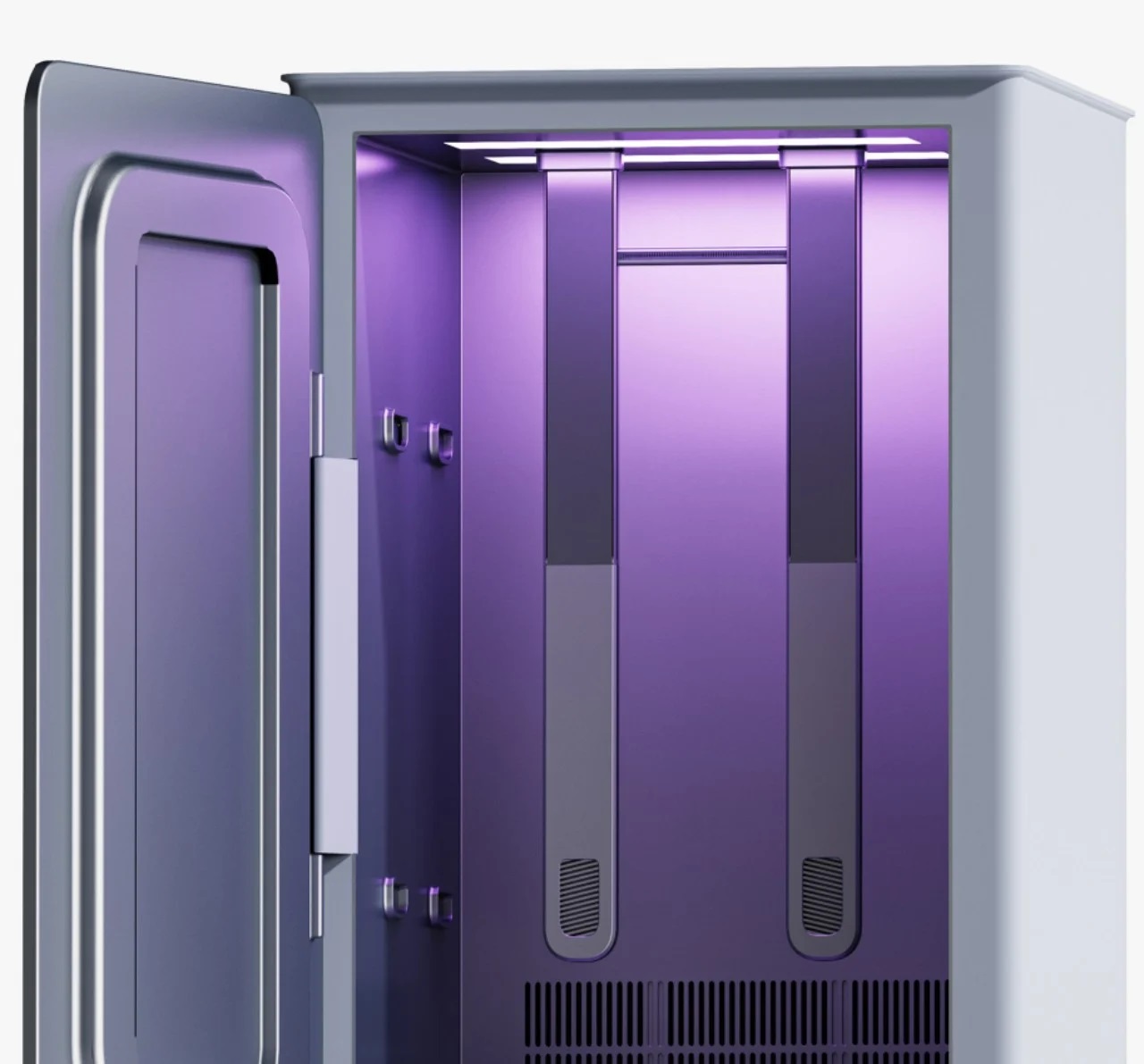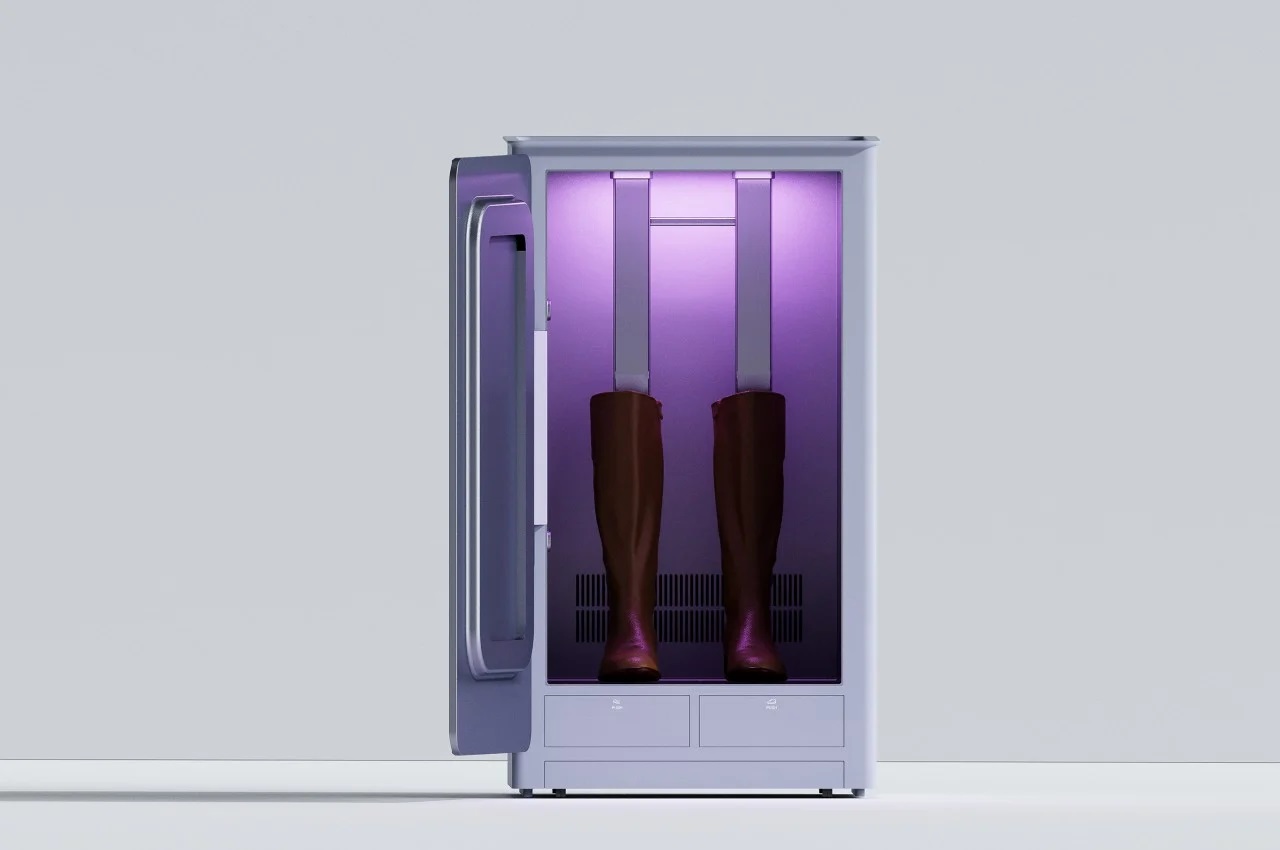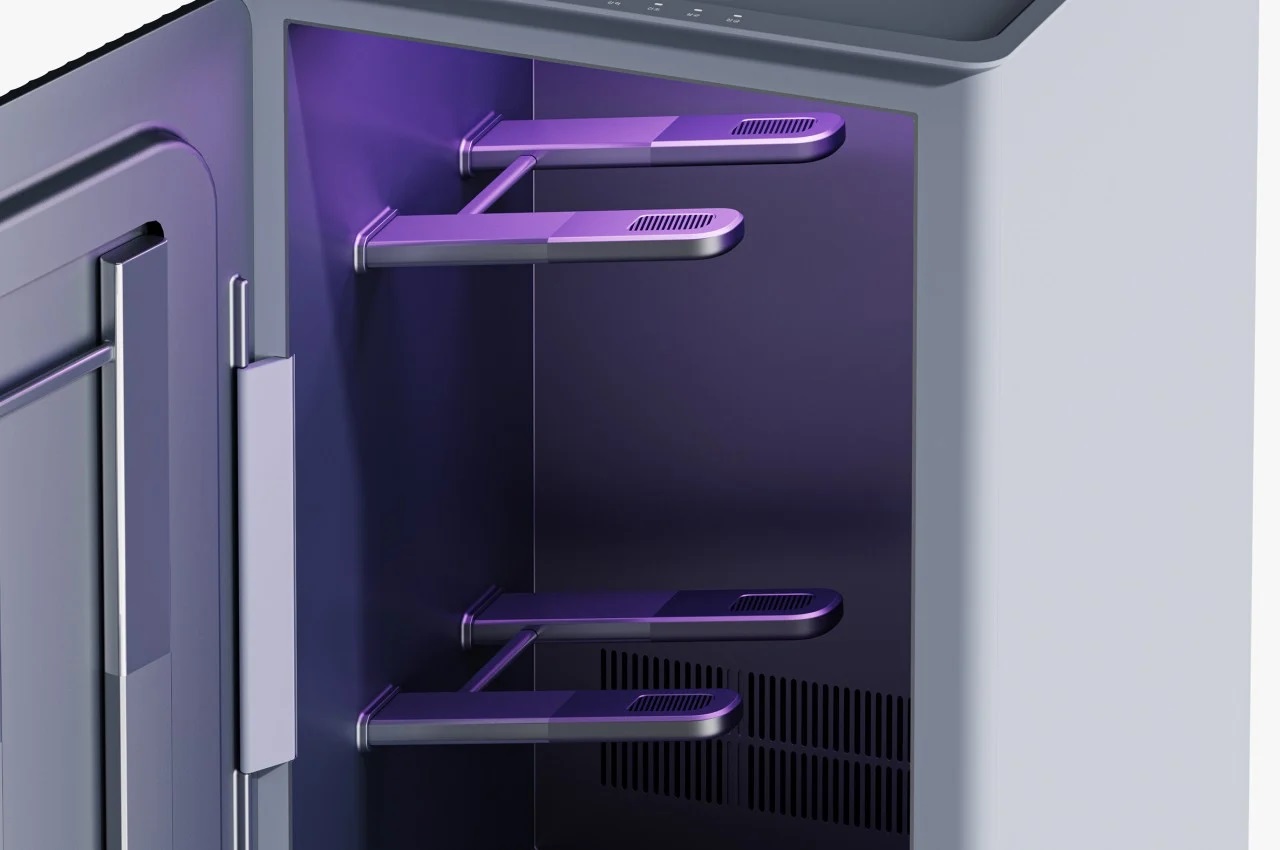 Designer : Yeounju Lee

Becoming an astronaut has seemingly lost some of its glamor, at least in the United States and the United Kingdom, where children are three times more likely to want to be a social media influencer than to jet off into space.
In China, the opposite is true, with more than half (56 percent) of 8 to 12-year-olds saying that they would most like to become an astronaut when they grow up and only 18 percent an influencer. The following chart shows the responses of some 3,000 children who were asked which profession they are most drawn to, out of an influencer/YouTuber, astronaut, teacher, professional athlete and a musician, as part of a 2019 study by The Harris Poll and Lego Group. They could choose up to three options.
While the exact reason for the difference in aspirations is unknown, it likely comes down to a number of factors. For instance, it is widely considered that the heyday of U.S. space exploration was some 50 years ago, when Neil Armstrong was the first man to walk on the moon. Back then, likely a higher share of U.S. kids would have said they wanted to be astronauts too. Meanwhile, China has been picking up pace in terms of space exploration in recent years, with President Xi Jinping stating that he has ambitions for the country to become a "great space power." This is already happening, with advanvcements such as China's Tiangong space station set to finish construction this year.
Eric Berger from Ars Technica suggests that another possible reason could be that the education system in China places a higher emphasis on the value of science and space exploration. After all, the survey also found that children in China showed more interest in space subjects than in the other two countries, and when asked about whether humans would eventually live on other planets or in outer space, 95 percent of Chinese children said they would want to live beyond Earth themselves, whereas in the U.S. and UK it was still high, but under 70 percent.
Or perhaps it is less to do with a lack of interest in space and more about the glamorization and relative exposure to social media per country. Where the United States and the United Kingdom have upped their social media usage in recent years, China has started to tighten its restrictions on such sites, especially when it comes to kids, citing the dangers of internet addiction and negative impacts on youths' eyesight, concentration and mental health. Measures have tightened further in the years since the survey took place, with a "youth mode" added to Douyin, the version of TikTok available in China, which does not permit children under the age of 14 to use it for more than 40 minutes a day or between the hours of 10 p.m. and 6 a.m. The app also reportedly shows more educational content (and more political censorship) than the international version. By contrast, social media has relatively few restrictions in the United Kingdom and the United States.
The shoe storage also functions as a shelf, particularly for things you might need when going out. It's the perfect place to put down keys that you'll pick up again the next day, turning it into that one place you'll never forget. The design admittedly has some limitations, such as the number of shoes that can be stored inside at the same time. It does, however, bring to mind the importance of caring for footwear, especially given how we critically depend on them to go places.
HaptX, the company known for its haptic gloves, today announced it's launching pre-orders for HaptX Gloves G1, a cheaper and more refined haptic glove device that's squarely targeted at businesses.

The company says the new device includes a number of improvements over its HaptX Gloves DK2, which it launched in early 2021 for enterprise. It's said to include improved ergonomics, multiple glove sizes, wireless mobility, and improved haptic functionality.
Above all though, the company has improved the device's price point, with pre-orders launching today for as low as $4,500 with the purchase of multiple units.
And that's a far sight better than DK2. Although prices for DK2 weren't public information, we learned it initially sold for tens of thousands of dollars per unit back at launch in 2021. Whatever the case, the company says its selling G1 at "a fraction of the cost" of the HaptX Gloves DK2.
How do HaptX Gloves G1 work?
To replicate the sense of touch, G1 does two fundamental tasks. It includes hundreds of microfluidic actuators that individually balloon out to displace your skin, which creates a sense of touch that goes beyond the sort of experience provided by buzzing haptic actuators found in VR controllers. It also provides force feedback so hand-held virtual objects have a sense of solidity, which is done by physically stopping your finger when it reaches the boundary of a virtual object.
In our 2018 hands-on with the company's device, we called it capable of creating "brief moments where you really feel like you're touching something that isn't actually there."
Here's an excerpt from Road to VR's Ben Lang describing his experience with HaptX gloves:
For one, I know when my virtual hand is coming in contact with the virtual object beyond simple visual verification because I can feel it pushing against my finger tips. This means it's clear to me that the object is responding to me and able to be gripped.
But it's the force feedback which ultimately seals the deal, because by stopping my fingers at roughly the correct points in space means I can then rely on entirely natural physical manipulations, like subtly rotating the cube with two fingers (the way that you might twist a knob). Without the force feedback, I'd need to make a mock grabbing gesture in order to keep my fingers in the right place (which feels very unnatural), or rely on an unnatural abstracted gesture to make the system understand that I wanted to grip, but then I'd need to figure out new means of manipulating the object with that gesture instead of interacting with the object as if was truly there.
Since the gloves require compressed air to inflate those microfluidic actuators, the gloves come along with what the company calls an 'Airpack', a wireless backpack that can either be worn for room-scale interactions or placed on a desk for seated and standing. The company says Airpack can work up to three hours on a single charge without connection to external air or power.