Known for their effortless chic, the French need the least time for their everyday make-up routines out of the six countries included in a content special by the Statista Global Consumer Survey.
67 percent of beauty product users surveyed in the country stated that they needed less than 15 minutes for their make-up routine. Germany was not far behind at 58 percent of respondents saying their make-up routines were less than 15 minutes long.
In Russia and China, however, more than 50 percent of beauty product users said they needed between 15 and 30 minutes for their routines. China also had the highest number of respondents saying they needed between 30 and 45 minutes to put on make-up – 14 percent.
Excessively long make-up routines can be found in South Korea and the United States. While a majority in the countries also said it was taking less than 15 minutes for them to put on make-up on a regular day, 6 and 8 percent, respectively, said they were taking more than 45 minutes – the highest in the survey.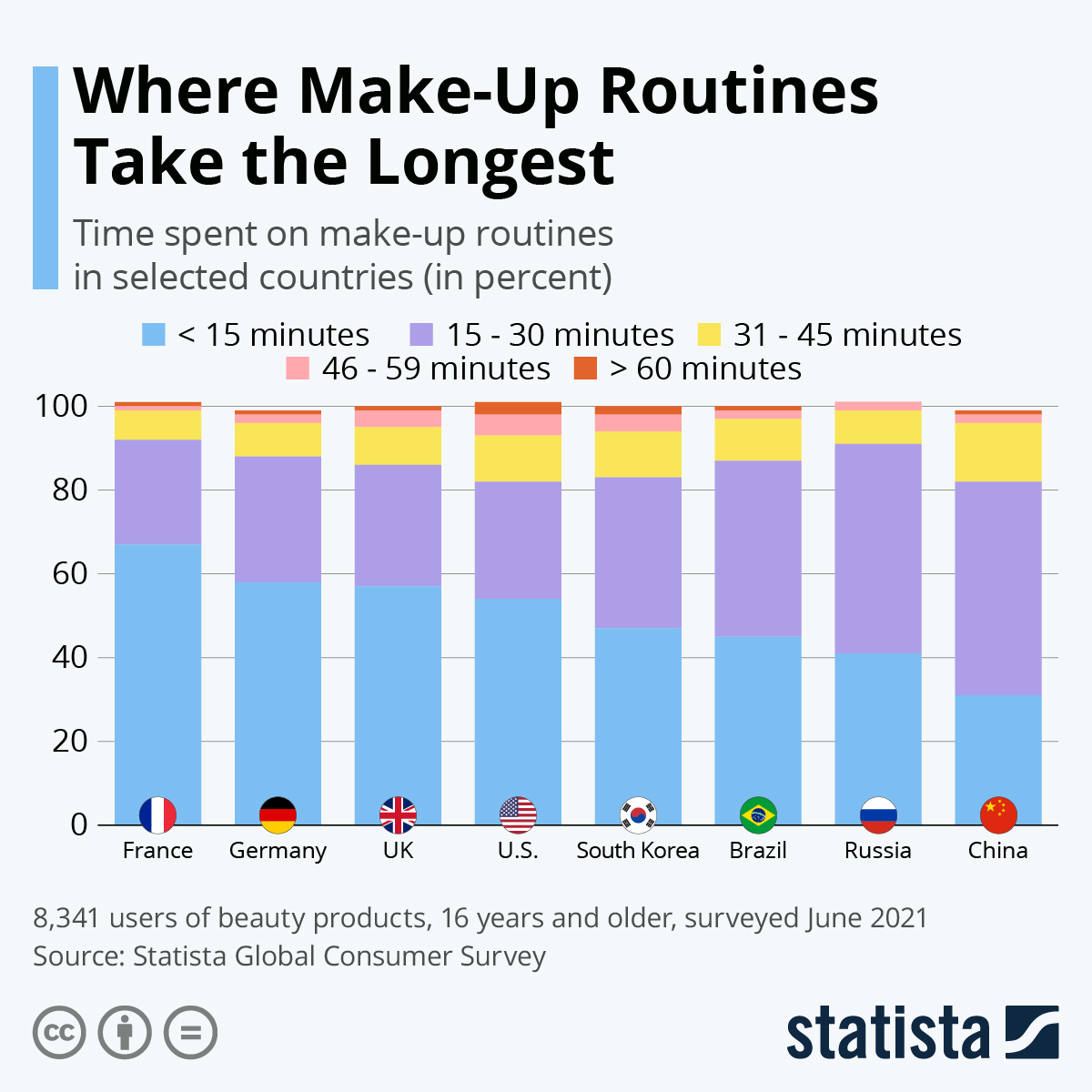 Where K-Beauty Is the Preferred Choice
Move over, K-Pop, the new export hit from Korean is called K-Beauty. Korean beauty and skincare products have a large following in Asia and beyond. The nation using the most Korean skincare is – of course – South Korea itself, but the Philippines and Singapore are not far behind, as market research from Rakuten shows.
Korean skincare has become associated with so-called skincare routines, which created a loyal following of beauty enthusiasts for Korean beauty brands. Korean products are more frequently used than Japanese ones in most Asian markets, despite Japan being home to global household names like Shiseido. In China, Taiwan and Hong Kong, Japanese brands are still more popular, and the K-Beauty industry also had to grapple with some home-grown competition catering specifically to local tastes.
In the age of the beauty blogger, influencer marketing has been an important force for K-Beauty. According to Rakuten, beauty influencers are among the most common sources for info on Korean beauty trends and products. This was most pronounced among women in the Philippines (54 percent get their info about K-Beauty from influencers) and Thailand (52 percent). In Vietnam, Singapore and Malaysia – as well as in South Korea itself – K-Beauty was most often recommended through friends and family while Indian female consumers relied on info on e-commerce platforms most.
Source: statista